[The omnivalent narrator loses their mind]
In the beginning there was debt, bloat, and free education. Since we began, years ago, we've come to zest many more interconnected systems. This is not a debate about "tuition," it's a practice of building resistance, dismantling oppression, and fostering shared principles.
This might make no sense, but keep reading. Come back to the platter as you learn more throughout the rest of the book. These concepts have congealed over years of campaigning for a Free Cooper Union, and they will continue to glob.
Behind every tactic is a crazy vision platter deluxe.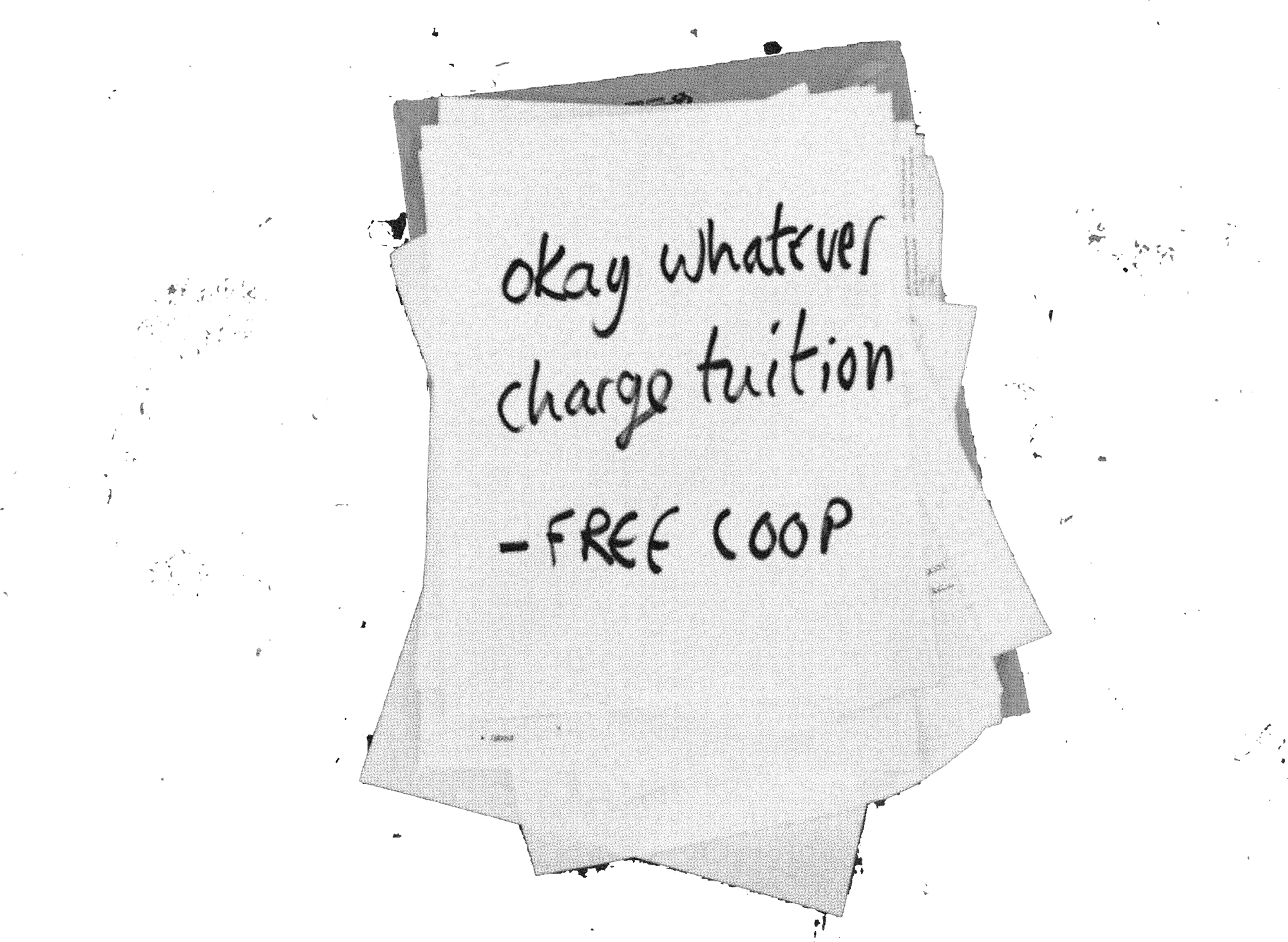 INSTITUTIONS: Institutions are full of shit. Are we the Drain-O? Is there Drain-O strong enough? Is education like washing our hands in a sink? Is the sink the absence of a pipe? Is water money?
FALSE DICHOTOMIES: It behooves them to financialize us. Beware of false choices. Being for and being against both reinforce the terms of a debate. Are you sure you don't want to switch tabs?
TIME SCALES: Don't forget: short, middle, and long. But now is always the time for principled action. Organize as if social relations matter.
DELUSIONAL REALISM: The way to oppose a system of financial realities is to stop making sense. A different kind of sense. Jokes. Tuition may have been the answer but what was the question?
DELICATE SENSIBILITIES: Friction. Rubbing. Discomfort. He's choosing to focus on one small thing. For people looking at that whole spectrum the friction is like a fire and it's burning and it hurts and it makes everything impossible to ignore. You're compelled to act. The masking of the intersectionality of things and the privileging of invisible systemic forms of violence on indigenous groups, people of color, minorities. And what of the violence imposed by the state? All of these organizations propose that we care about human rights when in reality the capitalist framework infringes on human rights in order to provide some people with a comfortable lifestyle.
FAILURES OF LANGUAGE: We've bumped up against the limits of language. ASFhgjskhdljadkvsfjhljd. Prefixes and suffixes denote oppositional things, but sometimes they're not opposites. The idea of a position as a coordinate in a grid system is like a statistic: you can make it mean anything you want by putting words around it. There's no essential grid. If you think about people on an axis from liberal to conservative, then reorder that axis in terms of insurrectionists to institutionalists, Rush Limbaugh will suddenly be next to Obama and Tea Partiers will be next to anarchists. You can attribute ethics to a position, but ultimately there are no fixed positions because the grid is a concept in relation to positions.
PARADIGMS: Paradigms are paradigms. Everyone who has managed to entertain that idea, for a moment or a lifetime, has found it to be the basis for radical empowerment.
VISION vs. NOSTALGIA: A lot of "visions" are actually just nostalgia: a weird security-blanket baba goo goo Cooper 20 years ago 10 years from now. Free wasn't perfect. Say it over and over because nostalgia for free is only going to get hotter. What should a university should be like now? In 100 years? Fight the nostalgic with the prophetic.
RUBBERBAND: A form of organization. If an immediate response is needed we're on the ground. Other times we're circling back to archive recent history. Other times we're imagining the far future. Other times we're just lying in a junk drawer.
SYSTEMS: Systems don't just touch, they are sugar cookies tied in a knot. Their change is driving us and perpetuating itself. We continue to maintain that we're in control. lol. We're deciding to burn all this stuff? No! It's the glitchy artificial intelligence of wickedly entangled systems. We can't read it even when we're not being too stupid to see it.
COMMUNITY: Is this even a fight with the community? What community? The community has been erased, destroyed, disarmed, dissolved — if there ever was one. Could a community with no say have ever been one?
POSITIONAL ETHICS: When we ask to be a part of a committee to find a security firm, that doesn't mean that we're not also trying to demand that there not be a security firm. Hypocrisy is a paradigm. If you have to ask, it's not mutually exclusive.
REMEDIATION: Fixing Cooper's relations with the broader community. Being actively good instead of having to circle back and make amends.
GOVERNANCE: Problems: duress, cronyism, monoculture, middle manageMENt. Proposals: require structurally that board composition be different, no board, self-governance, Sunset Clause (see glossary), leadership teams, horizontality, decentralization, open source, cooperative, small, within our means. We're not afraid to not have a president. The only school that should have tuition is a school that is self-governing and decides to charge itself.
MERITOCRACY: In most cases a thin guise for the perpetuation of privilege. The more spent on tutors and special schools, on extracurricular activities and educational trips, on satisfying every need outside of study — the more appealing a student becomes to a meritocratic institution. If you don't have to do anything all day but swim in a pool and take piano lessons, meritocracy wants YOU. The School of Art, for its part, showed one way through this mire in the form of its hometest: dissolving gameable charts of grades and accomplishments with debate about what constitutes a class.
PEDAGOGY: How can we have a section called Pedagogy? What happens here makes no sense, but it's the least stupid thing we know how to do.
RISK MANAGEMENT: The administration's approach to risk is capitalist: the minimization of risk. We integrate risk. Aversion to risk is the link between a growth ideology and faithfulness to profit. If you want to minimize risk the surest way is to balloon everything around you infinitely. It's sometimes hard to understand how things can keep getting worse and worse, but risk aversion provides a lens through which all the bad things that happen here have to happen to keep minimizing risk.
AUSTERITY: Recontextualize the public perception post-recession that individuals and institutions in financial straits are solely responsible for getting themselves into their problems. And out of them. These problems are systemic and are the result of an intersectional complex of issues: corporate, public/private, race, class, gender.
NICE ≠ RIGHT: For god's sake.
ADMISSIONS: Why are there so many students from Florida? What is the magnet school pipeline really about and do we want to be part of it? What if admissions counselors had the time and resources to rove around like Morpheus trying to find Neo, instead of heading in a direction of calculating yield from partner schools.
EDUCATIONAL INDUSTRIAL COMPLEX: There's a whole industry that manufactured your desire to go to school and feeds of your plight once you're there. Access! Means nothing. People fall through the cracks of financial aid over and over again everywhere all the time. Debt forgiveness legitimizes sticker prices. Elizabeth Warren and others are on the reform beat, and it's important — but it's also important to remember what reform misses. Dismantling euphemisms. Test prep. Textbooks. Common App. Kaplan. College Board. Rankings. Fake scholarships taken away in a second-year bait-and-switch.
ACCREDITATION: People flip a shit about losing accreditation but why should we care? Except that it's tied to financial aid. A degree means nothing in a world completely saturated with degrees. If you get your education for free, nobody can lord a certificate over you.
SOCIAL JUSTICE: How can we have a section called Social Justice? And yet we must. If only as a reminder that we too often opt-out, and that shouldn't be an option.
PHILANTHROPY: You can't have philanthropy without a system that relies on charity to make amends for incredible disparity. Reinforces the gap between the rich and the poor. We don't want the end of philanthropy but the beginning of a society that it would make no sense to.